Annamalai Study Material by DistPub – Business Research Methods - Delhi
Wednesday, 26 December 2018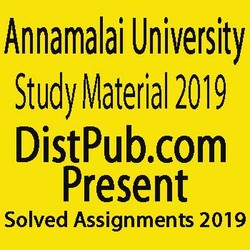 Contacts

distpubindia
Item description
DistPub is one of best academic support portal.
Solution provided by DistPub.com
so visit our website DistPub.com or send email to distpub@gmail.com

Q1: "Empirical research in India creates so many problems for the researchers". State the problems that are usually faced by young researchers.

Q2: Using the different measurement scales, prepare a questionnaire, on a topic of your choice and indicate the statistical tools can be used for analysis of the questionnaire.

Q3: Critically examine the following statements.
a) Interviews cause more bias than the use of questionnaire while collecting data.
b) Projective technique is reliable and authentic method of data collection.

Q4: "Majority of the researches makes use of primary sources of data and secondary data sources do not really contribute to a scientific enquiry". Do you agree or disagree with the statement? – Explain.