Personalized Learning with Expert Trainers - Delhi
Thursday, 22 March 2018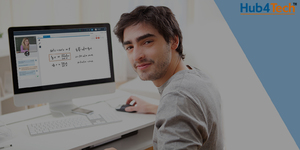 Contacts

9069139140
Item description
Hub4Tech.com is a Free Assessment, Analytics & AI Tool for Learners, Trainers and Schools.
Hub4Tech.com is a platform for personalized learning where you can diagnose yourself and know your learning gap with the help of Analytics.
6th - 12th (Mathematics, Physics, Chemistry, Biology, English, Social Science, GK and many more...
Exam Prep (JEE, NEET, NTSE, Olympiad, GRE, CAT, GMAT, SAT, TOEFL, IELTS and many more...
Tech Champions (Application, Machine Learning, Robotics and many more...
You can attend free demo class to experience our training methodology. Please feel free to visit www.hub4tech.com or reach out to us on 9069139140 (Central Helpline) or mail us at info@hub4tech.com.