Free training & placement for seo(search engine optimization) - Delhi
Tuesday, 20 December 2016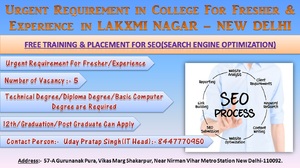 Contacts

Uday Singh

08447770950
Item description
Urgent Requirement in College For Fresher & Experience in Laxmi Nagar for SEO(Search Engine Optimization) Profile. Interested Candidate Can apply for this Profile. Candidate Should manage all search engine optimization and marketing activities. You will be responsible for managing all SEO activities such as content strategy, link building and keyword strategy to increase rankings on all major search networks. You will also manage all SEM campaigns on Google, Yahoo and Bing in order to maximize ROI.

Professional Skills & Qualifications
oTechnical Degree/Diploma Degree/Basic Computer Degree
o12th/Graduation/Post Graduate Can Apply
oFresher and Experience.
oBasic Knowledge of Ms-Office.
oBasic Knowledge of Internet.
oCommand in English Writing/Content Writing.
Post/Position:-
oSEO(Search Engine Optimization)
No. of Vacancy:-
oFive
Process:-
oDirect Interview
Contact Person:- Uday Pratap Singh(IT Head 8447770950

Address:- 57-A Gurunanak Pura, Vikas Marg Shakarpur, Near Nirman Vihar Metro Station New Delhi-110092.

Job Description:-
1.Perform keyword research in coordination with client business objectives to optimize existing content and uncover new opportunities.
2.Provide SEO analysis and suggestions in coordination with elements and structure of websites and web pages.
3.Help to create and support marketing content to socialize and use for social media purposes (e.g. blog post, etc)
4.Develop and implement link building campaigns.
5.Implement and administer search engine programs (webmaster tools, XML sitemaps).
6.Monitor and evaluate search results and search performance across the major search channels in order to improve rankings.
7.Communications to team and management on project development, timelines and results.
8.Excellent analytical skills.
9.Passion for SEO and overall internet marketing.
10.Good in HTML/CSS and website administration.
11.Experience working with popular keywords tools (Google, WordTracker, Keyword Discovery , etc).
12.Who will do mobile marketing, digital video promotions, media buying, content analytic.