Graduation And Post Graduation Degree in One Year | single sitting degree in a o - Delhi
Saturday, 15 October 2016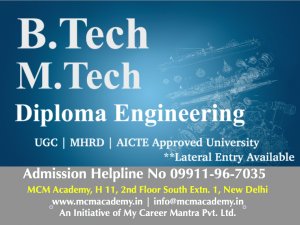 Contacts

MCM Academy

9999380958
Item description
FORMS OF DISTANCE EDUCATION
There are a number of other ways students can study courses via distance education. These include the following Collage & University
Manav bharti university himachal pradesh
Sunrise University Alwar
himalayan university national university arunachal pradesh
Shobhit University Meerut

Complete their Degree WHICH WILL HELP FOR YOUR HIGHER STUDIES, PROMOTIONS & EMPLOYMENT.
COURSES OFFERED:
B.A. / B. COM. /B.SC. / B.B.A. / B.C.A. Degree in a one year
M.A. / M. COM. / M.SC. / M.B.A. / M.C.A. Degree in fast track mode
B.TECH / M.TECH / DIPLOMA IN ALL STREAMS Degree ADVANTAGES:
UGC, DEC, AICTE, MHRD APPROVED UNIVERSITY
EASY SYLLABUS, FREE STUDY MATERIAL, LOW FEES
100% Results approved all Embassies & Strong Placement Cell
Contact Now: - MCM ACADEMY H-11, 2nd Floor, South Extn. Part 1, New Delhi 110049
Admission Helpline No 09999137074, 011-65154700 an Initiative of My Career Mantra Pvt. Ltd:-
Note: - We (My Career Mantra Academy) offer Graduation program University approved by UGC using credit transfer method. This option can be utilize by students who have failed or discontinued from any other university, approved by UGC. (Graduation completes graduation, short term graduation, government approved graduation.