Training Stairs (Single Side) - Delhi
Friday, 30 October 2015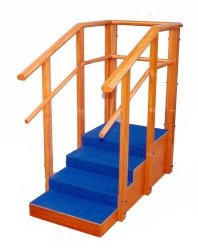 Contacts

Sourabh Mutreja

9711991264
Item description
Training stairs (single side): Sturdily built in two sections for installation in a straight single side.
Features : Steps arrangement : four 15cm steps lead to a platform size 76 x 76 x 60cm high.
Steps. : 76cm wide and 28cm deep.
Hand rails : All-around hardwood handrails at two different heights to accommodate adults and children.
Construction. : Steps and platform made of commercial board, hand rails with supporting bars made out of hardwood. Polished natural wood finish.
Note : require assembly at destination.