Summer Training in Delhi. - Delhi
Monday, 11 May 2015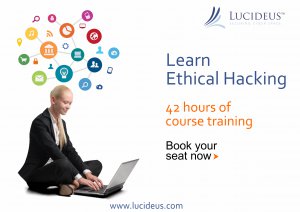 Contacts

akshat

8588842342
Item description
Lucideus introduces Asia's coolest 40 hours program on Information Security & Digital Forensics.

About Summer Training
It's a training program where you get to see and try from your own hands how a real world hacker works so that you can defend yourself from the attacks.

Course Contents
1.Web Application Hacking & Security2.Reverse Engineering
3.Email Accounts Hacking & Security4.Buffer Overflow Attacks
5.Mobile Hacking & Security6.Metasploit Framework
7.System Hacking & Security8.Cyber Forensics
9.Wireless Hacking & Security10.Cyber Crime Investigation
And many more…


Who all will teach us in the course?
Saket ModiVidit Baxi
Rahul TyagiAman Sachdev

Don't know who they are?
Try and ask Google, it will help you with all the required info.


For Registration Form And Batch Dates : www.lucideus.com/summer

If you have more queries, please feel free to engage over email summer@lucideus.com or call 08588842342 / 011-26569899 for more details.