Birthday party decorations in Delhi | Balloon decoration Noida - Delhi
Tuesday, 9 September 2014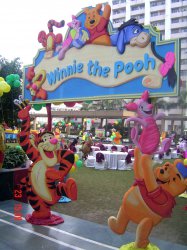 Contacts

Madhav Singh

9818822312
Item description
Birthday party decoration in Delhi
A birthday party can indeed be an awesome affair full of fun and frolic, provided that birthday decorations are done in an appropriate manner. And when it comes to making birthday party decorations in Delhi, Noida, Gurgaon, Ghaziabad, Faridabad, Greater noida, Bulandshahr, Meerut, Muzaffarnagar, Moradabad, Nainital, Dehradun, Masuri, Rohtak, Hisar, Jind, Panipat, Sonipat, Chandigarh, Indore, Jaipur, Haryana, Manesar, Sirsa, Bhiwadi, Bhopal, Patna, Ludhiana, Agra, Raipur and all over india , we have always emerged as a premium birthday decorator.
While you have decided to celebrate Kid's birthday, your next job is to hire the services of a reputed birthday decorator. We as a decorator will decorate your house or the birthday venue with cool birthday decoration pieces. These decorations can either go in accordance with the theme or even if there is no set theme, we shall put up your kid's favorite colors so that both he and his friends can enjoy the party to the fullest.
Balloon decorations form the major part of our birthday decorations as they help spread happiness among the people gathered at the party. Not only they make the party look perfect but are a reasonable way to decorate the venue.
Since we are a theme party planner in Delhi , we decorate the venue considering the theme. We even come up with unique birthday decorating ideas that are priced low for the budget conscious people. For example if the theme is 'Under the Sea', then we shall put up blue or a combination of blue-green balloons which not only make excellent archways but even offer a bubble effect. Streamers made out of crepe papers in colors of blue and green are used to decorate walls to give a 'Sea like effect'. Candies are used as a kind of sea-treasures and shells and aquarium stones can make beautiful table ornaments. If you wish to give return gifts to the guests present in the party, go for party bags which consist of shells and stones. We do shall make arrangements for the same.
Lights also make a part of the parcel of birthday decorations in Delhi . We insist on putting up either the single shaded bulbs or even the colorful ones, as per the theme. Of course, lights can illuminate the venue and give the party, a chic look. We keep in mind which decoration works best and then zero in on the arrangements to be made.
The main criteria behind beautiful birthday decoration while still being within the budget is to come up with imagination and creativity and that's what we, being birthday decorator in Delhi, strive to perform with utmost dedication and hard-work.
Thus, whether you want to celebrate Kid's birthday or your grandma's birthday, we have the right mix and match of every decoration plan to be implemented right in front of your eyes. So, come over to us for fulfilling all your party decoration needs.