Online Flowers, Gifts and cakes Delivery in Noida, Greater Noida-Same Day - Delhi
Tuesday, 3 September 2013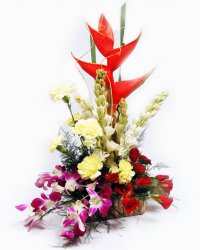 Contacts

Aditya Tyage

9810201399
Item description
Fragranceflora offers best way to send online flowers, gift and cakes to noida, greater Noida and provides same day flowers delivery in Noida, Delhi/NCR.

Fragrance Flowers Pvt. Ltd.
Noida Store 37
K-5, Damodar Complex
Sector-37
Noida
0120- 4245937, 9810201399, 9971591944
mail us- fragranceflora@gmail.com

Noida Store 29
Brahamputra Shopping Complex
Sector-29
9971591944, 9910301399

Greater Noida Store
Delcourt, Shop no- 2,
Jay Pee Greens Resort
Greater Noida
9910301399
Contact us by phone
To get the most updated information regarding your order or to get an answer prior to placing an order, our customer service is available 24/7 at +919810201399.
Contact us by E-Mail
Please use our customer support link or mail directly to fragranceflora@gmail.com with your order -related questions.
Send Flowers to Noida, Gifts to Noida, Flowers to Noida, Send Gift to Noida, eid Gifts to Noida, Send Gifts to Noida, Cakes to Noida, Send Cakes to Noida, Anniversary Flowers to Noida, Birthday Flowers to Noida, Wedding Gifts to Noida, Wedding Flowers to Noida, Wedding Gifts to Noida, eid Flowers noida, flower noida.


Flowers with Same Day Delivery , We Guarantee the Florist Arranged Flowers will be Delivered Today!