Car detailing Services - Delhi
Saturday, 18 March 2023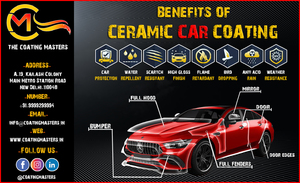 Contacts

Bhuvan Chadha

09911155794
Item description
Car detailing is a comprehensive cleaning and restoration process that aims to make a car look and feel brand new. It typically involves thorough cleaning of both the interior and exterior of the car, including the engine bay and undercarriage, followed by various treatments such as waxing, polishing, and sealing.
PPF (Paint Protection Film) coating is a type of protective film applied to the exterior of a car to protect the paintwork from scratches, chips, and other types of damage. It is a transparent film that is applied to the car's body panels and provides a durable barrier against environmental factors such as UV rays, dirt, and debris.
The Coating Masters is a brand that specializes in car detailing and PPF coating services. They offer a range of packages to suit different needs and budgets, from basic detailing to full-scale restoration services. Their PPF coating is known for its high quality and durability, providing long-lasting protection for your car's paintwork.