B.Tech for Working Professionals | B.Tech in One Year - Delhi
Monday, 20 June 2022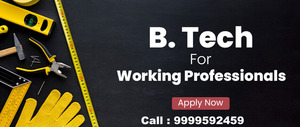 Contacts

Mcmacademy

9999137074
Item description
B.Tech for Working Professionals Can be deemed as a three-year undergraduate degree designed for people already involved in the job sector. It is a highly sought-after course and is co-opted by a massive chunk of the employed cohort to advance their career prospects.
Features of B.Tech for Working Professionals Course
•The program is devised keeping in mind the particularized needs of the working professionals and as per job requirements.
•AICTE accredits the degree.
•The nullification of distance B.Tech by the Apex Court has made B.Tech for Working Professionals a viable alternative trajectory. Few other substitutes include part-time B.Tech and B.Tech Weekend.
•The various specializations that people can choose from including Mechanical, Civil, Electronics, Computer and Science, Automobile, and so forth.
•The distance B.Tech degree is formulated as per the latest curriculum and advancements in the engineering field.
•The classes of distance or online B.Tech courses are usually held in the evenings or weekends.
Approvals
UGC | AICTE | NAAC
Duration
4 Years
Eligibility
The rudimentary criterion to apply for B.Tech for Working Professionals course is to possess a diploma in the relevant specialization that the student desires to pursue their B.Tech in.
Advantages of B.Tech for Working Professionals Degree
•Students get the opportunity to pursue a B.Tech degree from one of the best part-time B.Tech universities in India and abroad.
•The placement drives associated with the degree enable young professionals to shift or upgrade their careers.
•The best part is that avid learners can enjoy the best of both worlds by studying and earning simultaneously.
Specializations for B.Tech Working Professionals
•B.Tech Civil Engineering
•B.Tech Mechanical Engineering
•B.Tech Electronics & Communication Engineering
•B.Tech Computer Science Engineering
•B Tech In Electrical Engineering
•B.Tech Automobile Engineering
•B Tech In Mining Engineering
•B Tech In Biotechnology Engineering
•B Tech In Biomedical Engineering
•B Tech In Agriculture Informatics Engineering
Job Opportunity after B.Tech for Working Professionals
•You can work in Public Sector like ONGC, SAIL, GAIL, IOCL, BHEL, HPCL, RAILWAYS.
•You can also work Private Sector like TCS, ABG, Adani Group, Reliance Group, Infosys, and Microsoft etc.
•You can also be the part of Research, Development in international organizations like NASA, UNRC, national organizations like IITs, CSIR, NITS, ISRO, IB, BARC, Armed Forces, and Private Research Centers etc.
•You can pursue for higher studies in India and abroad for their personal and professional growth.
•You are also become eligible for M.tech Program.