Modular Kitchen Designer In Dehi, Ashok Vihar - Call us at 09911979336 - Delhi
Friday, 17 December 2021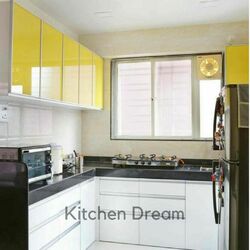 Contacts

Anup Bansal

09911979336
Item description
The Concept of Design Indian Kitchen is Kitchens for Everyone, by providing most Cost Effective and Pocket-friendly Modular Kitchens, which all can Afford. A brand for services, and we provided them the three necessities which they found missing in the prevalent markets, namely; 'Quality', 'Affordability' & 'Reliability. Your best modular Kitchen brand Design Indian Kitchen helps you in easing the entire process by providing you with the basic planning of the kitchen design, the installation of chimney, cabinets and shutters and till the final outlook of your kitchen, all by understanding the basic requirement of the customers.
All are Modular kitchens material manufactured in our Units across New Delhi – NCR has to pass through rigorous testing processes. Once they are tested through sampling techniques, we test their strength through our tensity test which is a part of physical verification. Once all tests are passed, the material is packed for further installation. We do not compromise any single-stage on our quality and workmanship. Our Integrity has made us the most Reliable Brand for Modular kitchens across New Delhi-NCR and India. Our materials carry a Valid Guarantee, and we only use standard ISO-certified kitchen equipment which are used worldwide and which have been significantly approved by thousand of customers and is widely used by Modular Kitchen Fraternity across the Globe.
We are a fast-growing manufacturer and supplier of a superior and qualitative range of modular kitchens and wardrobes. Our range is designed to meet Indian lifestyles and living standards. We are committed to adding fun to cooking by giving a touch of elegance to the place.
Delhi is the national capital of India and is likewise a well-planned city. So the pattern of modular kitchen is exceptionally successful. Modular kitchen Dream is one of the leading modular kitchen Dealers in Delhi.
We have worked in various sectors in Delhi. And have all major projects societies in Delhi NCR and have a decent client in Delhi. This is a blessing that we stand top amongst the best modular kitchen brands in Delhi and NCR.
We accept works in Modular Kitchens, Wardrobes, Vanities, and LCD Units and are the most trusted Modular Kitchen agency in Delhi.