ORM services Company in Delhi - Delhi
Saturday, 10 March 2018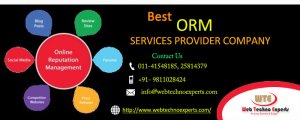 Contacts

Web Techno Experts

9811027310
Item description
Grow your online venture with us
ORM services Company
Web Techno Experts is a leading online reputation management (ORM) company in Delhi specializes in overseeing and uprising online reputation of industry leaders, their businesses, and different public figure. We serve 100% guaranteed and confirmed ORM offerings in Delhi within a dedicated interval of time.
Web Techno experts is a full Digital advertising solution firm giving businesses of all sizes and shapes with a cluster of online advertising services and methods intended to broaden web vicinity, prolong client base, and drive revenue. We took every venture as a designated and primary task and given every client, a high precedence. Whether or not a confidential client or a multinational, quality is something that we certainly not compromise and we strive to build and add worth to the businesses.
Being into the digital world for more than 30 years, reputation is very imperative for us and we are so pleasure full to you to assist you and remain it intact.