TKWs Post Graduate diploma in Banking and Finance - Delhi
Saturday, 15 June 2013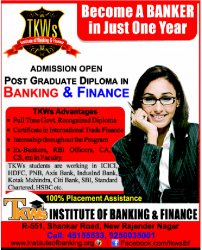 Contacts

Amit Goyal

9250057899
Item description
Post Graduate Diploma in Banking and finance
Banking & Finance has always been the most prestigious choice for higher education. The competition to get admissions is always stiff in this sector, since students from all walks of life aspire for the much coveted investment banking jobs. Once enrolled the sector opens a plethora of opportunities for candidates. A Post Graduate Diploma in Banking & Finance will be the most appropriate career decision for candidates having good interpersonal skills, patience and flair for numbers.
Post Graduate Diploma in Banking & Finance starts by providing fundamental clarity and then advances to expose the participants to all essentials of banking & finance. The course while preparing the candidate for PO exams also makes them job ready banking & finance professional. This makes it worlds only PG Diploma course in Banking & Finance that prepares the candidates simultaneously for public sector & private sector banks.
Internship: Students will be doing internship throughout the course with leading banks or financial companies in the form of assignments and projects.
Teaching Methodology: TKWs for all its programs uses ELT (Experimental Learning Techniques) which is based on the philosophy of "Involve me and I will never forget". Key features include
Regular corporate interactions
Industry ready curriculum
ELT
Practical Application of knowledge
Pre Banking exam training
Portfolio competition
Live Stock Training
Soft skill development
All the courses are government approved as TKWs is an affiliated college of Gulbarga University.
For further details please contact 9250057899.