Spy mobile india give best solution in spying for mobile - Delhi
Saturday, 25 August 2012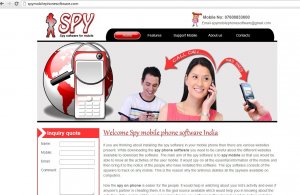 Contacts

SpyPhone

07600833600
Item description
Mobile Spy is giving best solution for real time tracking to know about real time work. Your family, friends and employee what are they doing you know everything just install single software in mobile.
1) Remote Listening: This software completely handle by remotely, spy software via monitor mobile just a hidden SMS send on the target mobile. Then you want to start procedure.
2) Tracking: This is software is managing all tracking features just like incoming call, Out Going call and SMS.
3) Control Phone By SMS: All features are activated and deactivated by remote mobile by a hidden SMS. We can get all information of sms, which are send by others mobiles.
4) Call History: You can make a call on target mobile, then your call is active and you can listen all of mobile conversation.
5) Location Tracking: You can see cell id and cell location, where is running.
6) Call Interception: When target mobile make and receive a call, Spy software will send a secret SMS to monitor mobile. If you now call the target mobile, you will be added to listen the call.
8) Shield: Hide all calls and software after the installation.
9) SIM Change Notification: When the SIM card is changed on Target mobile, SPY Software will send an SMS to monitor number.This lets you know new number.
10) Mobile Call Feature: After install the spy software you will activate this feature because this feature make to support track target phone.
Know more information about the software please contact us.
httpwww.spymobilephonesoftware.com
mail:- spymobilephonesoftware@gmail.com
MO: 07600833600
Spy Phone India, Spy mobile phone Software, Mobile Track Conversation, Cell phone monitoring, call interceptor, spy phone, spy mobile, mobile tracking software USA, Spy cell phone india, spy phone software india, spy phone generator.