Imported and champion bloodline Siberian Husky puppies at clawsnpawskennel(98300 - Delhi
Thursday, 12 April 2012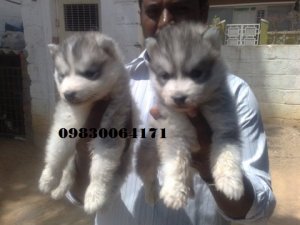 Contacts

Sangeeta Banerjee

9830064171
Item description
Dear Pet lovers are you looking for a show quality, imported and champion bloodline Siberian husky. Look no further, here's clawsnpawskennel offers you excellent quality puppies from UK, Canada and Australian lineage puppy at an affordable price.
Heavy bone, broad head. Heavy muscle, The Siberian Husky is adventurous, clever, and stubborn. It is very energetic and active when playing, and tends to make interesting whoops, yowls, and ululations. They have a low heat tolerance, so do not over exercise them in warm weather. The Siberian husky is not suited to apartment life. Both male and female puppies are available. Puppy is of around 8 weeks.
Primary vaccination and 21days deworming has been completed and these are available with life time breed guarantee. We provide guidelines for better grooming of the puppy. Our prompt delivery service delivers your life time companion at your service within 24-48 hrs. We deliver all over India without any transportation charges. For Images and detail about puppy please call us on 09830064171 or email us at clawsnpawsplanet@gmail.com, clawsnpawskennel@gmail.com. Visit our website www.clawsnpawskennel.com.